It won't be wrong to say that WhatsApp is one of the most used social media applications. An interesting fact about WhatsApp is that it keeps launching new features now and then. These features keep their users entertained.
Apart from all these aspects, the one thing that even WhatsApp doesn't want you to compromise is your safety. WhatsApp launched its live location feature to make sure that you can reach your destination safely. The upgraded version for this feature can be used both on Android and IOS. This feature enables you to send your location to your friend or family for a specific set time. The location can be shared both in a group and in a private choice. This feature also makes sure that no one else from your WhatsApp contacts can see your location except the people you have shared it with.
What are the Benefits of WhatsApp Live Location Tracking?
The first thing that your parents are concerned about is your security. Not only your parents, but you are also worried about it. Because every time you book a ride, you worry and wonder if you will reach your destination safely or not. Indeed, we cannot trust a stranger, that's why this feature has proved to be very helpful for several people.
How to Use WhatsApp Live Location Tracking?
We have listed out a few steps that are going to help you in enabling the WhatsApp live location feature in your mobile phone.
Open your Chat
Allow the GPS Access
Share your Location
Select the Time
1. Open Your Chat
The first and foremost step is to permit WhatsApp in setting to enable location. The second step is opening the conversation with the person you want to share your location with. If you want to send it in a group, then you will have to open that Group chat. Once you have opened it, you need to click on the attachment or link icon being displayed on the WhatsApp keyboard. After clicking this feature, you will be shown a total of seven options. Now, you need to choose the con, Location icon. To be more clear, the Location icon is placed on the sixth number with other icons.
3. Allow the GPS Access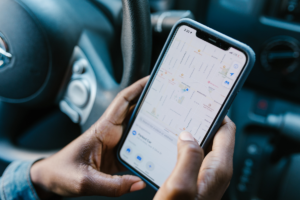 Once you have clicked on the location icon, a small message will appear in the mid of your screen. It will ask your permission to continue the location sharing process. In most mobile phones, the GPS option has been disabled, so you also need to provide it access by opening your device Location settings.
3. Share your Location
This way, you will be directly lead to the maps. Now, in front of your mobile screen, you can see a large map. At the right bottom of your screen, you will see an option "Share Live Location". Click on that map option and you will be able to share your location. Now, a notification will appear, stating that your location will only be shared for the period that you will select. It will tell you that location will not be shared after the specific time. Also, it will show that whenever you want, you can stop sharing your location.
4. Select the Time
What comes next is the time limit that you have to choose. It suggests that you will have three options. You can share the location for 15 minutes, 60 minutes, or 8 hours. So, it is up to you and your journey. If you are going for a long ride that takes more than one hour and less than eight, then you can choose the 8 hours option. This way, you can stop sharing your location once you have reached it. Now, your selected contact will receive the message with your live location.
If you want to stop sharing your location, you will see an option at the center end of your screen. You will see the Stop Sharing option writing in red bold font. Once hitting on the option will stop the receiver from tracking your location.
These four steps are very simple and easy to follow. While we have explained all these necessary steps, there is still one major detail that we don't want you to forget. One of the main aspects of this sharing procedure is related to your mobile internet. When you share your location with anyone, make sure that your mobile stays connected to the internet the whole time. If the internet gets interrupted, then the other person will not be able to track your location.