The interior space of a midsize SUV is wide enough to support a family or luggage. Due to its capacity to carry a lot of weight, you can easily travel in it without worrying about the load. You can use it to enjoy tours and make your memories last a lifetime. It has become a choice for a lot of people. In this article, we are going to discuss the best midsize SUVs with modern technologies and features. We hope this article will be helpful to you when looking for midsize SUVs. Let's get started right away. 
1. Kia Telluride
Kia Telluride is one of the best midsize SUVs. The sleek exterior design will make you amaze. If you look inside it, you will start to experience nail-biting by seeing the wide space. This 8 seater has an LED screen and smart charging, making it a popular choice.  
You can choose from 9 different seat trim styles and 8 different colors Due to its modern technology and features, it has a prominent place in the market. 
2. Chevrolet Traverse
Chevrolet Traverse equipped with the latest technology makes you spellbound. 8 seaters with smart sliding make more space for luggage. You will find some hidden places in it to keep your private things here. You can open and close the liftgate with its hands-free power liftgate system. You can turn the dial to select driver mode. It is just under your control. 
3. Honda Pilot
Honda Pilot is a stylish-looking midsize SUV. Its starting price is $39,060. Give a very refined look from every dimension. You can enjoy off-road trips and long drives. It is very comfy and gives you peace of mind. Its sensing system is outstanding. When it detects an imminent frontal collision, it automatically applies the brakes. As a result, you can avoid severe accidents.
4. Kia Sorento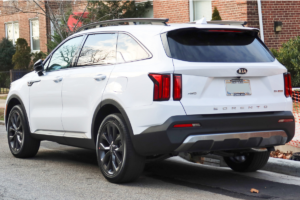 Kia Sorento ranks among the best midsize SUVs. Its availability in nine different exciting colors entices everyone to buy it. This model features a standard 5+2 seating arrangement that makes it a prominent option for families. Kia won the title of the most dependable vehicle. A Kia Sorento lets you drive even in the worst weather. The starting price is $29,490. 
5. Honda Passport
Honda Passport is a great midsize SUV choice. It is suitable for all seasons. During snowy and wet conditions, its traction system is highly useful. Its navigation system assists you in reaching your destination. You can drive it with peace of mind. It also won a prize for the best 2- Row SUV at a reasonable price. 
6.  Toyota Highlander
Toyota Highlander is one of the leading midsize SUVs It has a lot of space inside, making everyone comfortable and you can load luggage into it without a problem. Its amazing sensing features help you a lot in driving. 
Its interior design will surprise you. The red and black leather finishing seats provide you comfort. You can travel with it in a safe and relaxing mode. 
7. Ford Explorer 
Ford Explorer is among the most popular midsize SUVs. In low light areas, its high beam LED lights automatically turn on. 
The 14 speakers and wireless charging features in it make your journey enjoyable and tension-free. Its luxurious appearance attracts everyone towards itself. The starting price is $32,925. 
The 7 seaters with the latest and unique features make it a great choice for people. 
8. Hyundai Palisade
Hyundai Palisade is made for every situation. You can drive it in snowy weather, on wet and muddy roads without any problem. Its Smart Cruise Control (SCC) system will allow you to go and stop. Its radar system automatically stops your car when the front car immediately closes near to you. Its Lane Keeping Assist (LKA) helps you to keep in your lane. If you accidentally cross your lane its (LKA) signals you to go back and keep in your lane. 
9. Volkswagen Atlas
Atlas Volkswagen is one of the best midsize SUVs. Packed with a lot of safety features. A highly performing vehicle in all seasons. With the turn of a dial, you can change the all-wheel-drive mode to suit your driving conditions. 
It is available in 5 different exciting colors. One of its unique features is the mobile app that allows you to control your car from your fingertip. 
10. Dodge Durango
Dodge Durango is the greatest SUV in terms of power due to its V8 engine. Don't ignore its towing capacity of 8700 Pounds. LED lights make everything visible along the way. Its fog lamps make you visible to other drivers so that you avoid severe accidents. Its roof has a rack that can hold up to 150 pounds.