SUVs (Sports Utility Vehicles) are becoming more popular day by day. Many people are demanding SUVs. There are many reasons behind its demand. Some people prefer cars that are more comfortable, spacious, unique in their design, and provide better cargo space. 
In this article, we are going to discuss the top SUVs with modern technologies and features. This article will help you a lot in the future in selecting the best SUVs for your family. Let's begin without any further delay. 
1. Audi Q5
Audi is one of the most admired companies in vehicles. Audi Q5 is one of its best models. It is suitable for a family since it has a lot of space. Its unique design makes it prominent in everyone's eyes. 
Its highly radiant light makes everything visible on the road. 
Its automatically adaptive damping system offers a noise-free ride. Wet weather is no problem for the traction of this tire. It means you can drive safely in the rainy season or on wet roads due to its improved handling. That's why you avoid dangerous accidents when it is raining. 
2. Nissan Qashqai 
Nissan Qashqai is one of the top SUVs that you can consider for your family. Its low price makes it more desirable than other SUVs. The starting price is £23,535.
Its unique and bold design attracts everyone towards itself. Not just design, its special features make it distinguish from other competitive SUVs. Nissan Qashqai has a large interior space that allows everyone to sit comfortably. The leather seats increase their comfort level.   
The LED lights are very sharp, making everything visible from afar. They add a charming look to the vehicle.
Its 12.3 inches screen gives a lot of information about navigation, traffic, and vehicles. One of its best features includes a Windscreen Head-Up Display (HUD) that helps you keep in your lane and maintain a safe distance from your vehicle in front. 
3. Skoda Karoq
KAROQ Style-Skoda is one of the best SUVs. Before making any commitment, you can try its test drive. And it leaves you spellbound. I assure you, you will get surprised by its amazing colors and style. 
Its amazing features include
Driving assistance: this unique feature assists you in finding a nearby vehicle in the front, from the side, and also tells you directions about the parking lot.

Adaptive feature of passenger seats:

If you need more room for your luggage, don't worry, you can fold down your passengers' seats and use the space efficiently.

Wireless charging
4. Volkswagen-Tiguan
Volkswagen-Tiguan is among the top SUVs. Its starting price is $25,245. Its sleek design, stunning exterior, and interior look leave everyone astonished by its beauty.
Having an all-wheel-drive system helps distribute pressure evenly between the front and rear tires. This results in traction that improves handling. It means you can drive safely in wet and snowy seasons. 
5. Kia Sorento
Kia Sorento ranks among the best SUVs. Its availability in nine different exciting colors entices everyone to buy it. This model features a standard 5+2 seating arrangement that makes it a prominent option for families. 
A Kia Sorento lets you drive even in the worst weather. The starting price is $29,490. 
6. BMW X3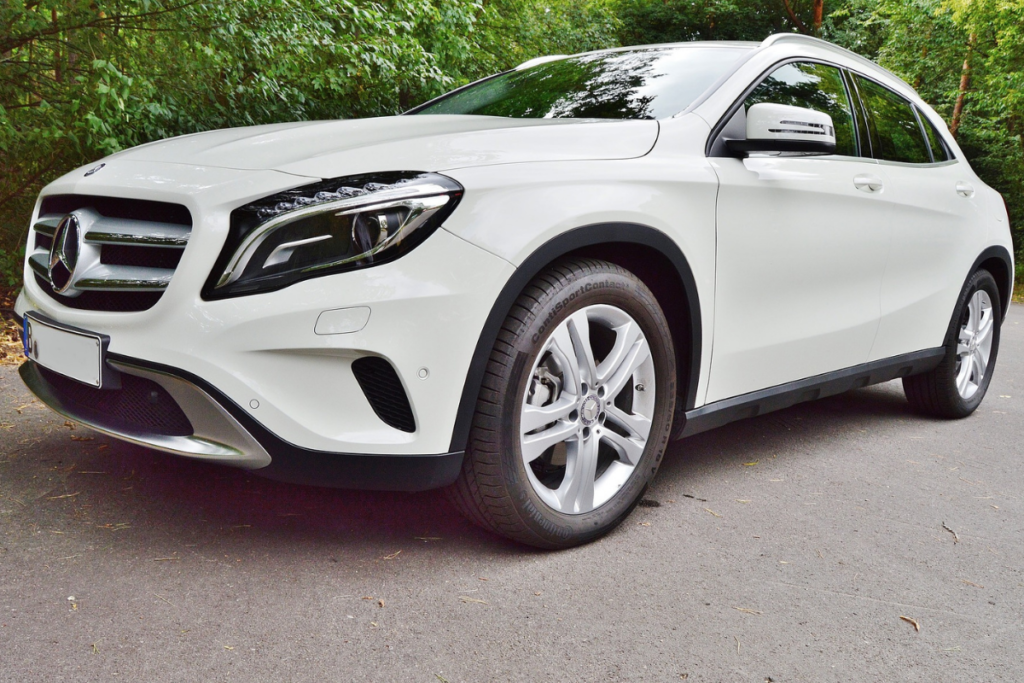 BMW X3 would be an excellent choice for your family. Stunning from the inside and the outside, it is sure to amaze you. An 8-speed Sport Automatic Transmission with TwinPower Turbo engines makes it among the best SUVs. Its roomy space allows you to drive long comfortably.
7. Jaguar F-PACE
Jaguar F-PACE stands out as one of the best choices for SUVs thanks to its highly advanced features. One of the unique features is the filter inside that removes dust particles and allergens that can harm your health. Its dynamic all-wheel-drive system allows you to enjoy the ride tension-free.
8. Range Rover Evoque 
Range Rover Evoque is an SUV with a unique design. Its exterior and interior designs are truly stunning. I found the best thing about it is that you can customize some interior, exterior, and wheel accessories according to your taste. This will be a great SUV for your loving family.
9. SEAT Ateca
SEAT Ateca, when you give it a first look I bet you cannot make your eyes off. Its stylish look will amaze you. $24,560 is the starting price. The sharp LED lights add more beauty to it. Seat Ateca is one of the finest SUVs for your family. 
10. Dacia Duster
Dacia Duster is one of the top SUVs at a reasonable price. Additionally, you get a discount when you order online. You can enjoy a ride in it every season. It includes advanced technology and features which make it a demanding vehicle in the market.